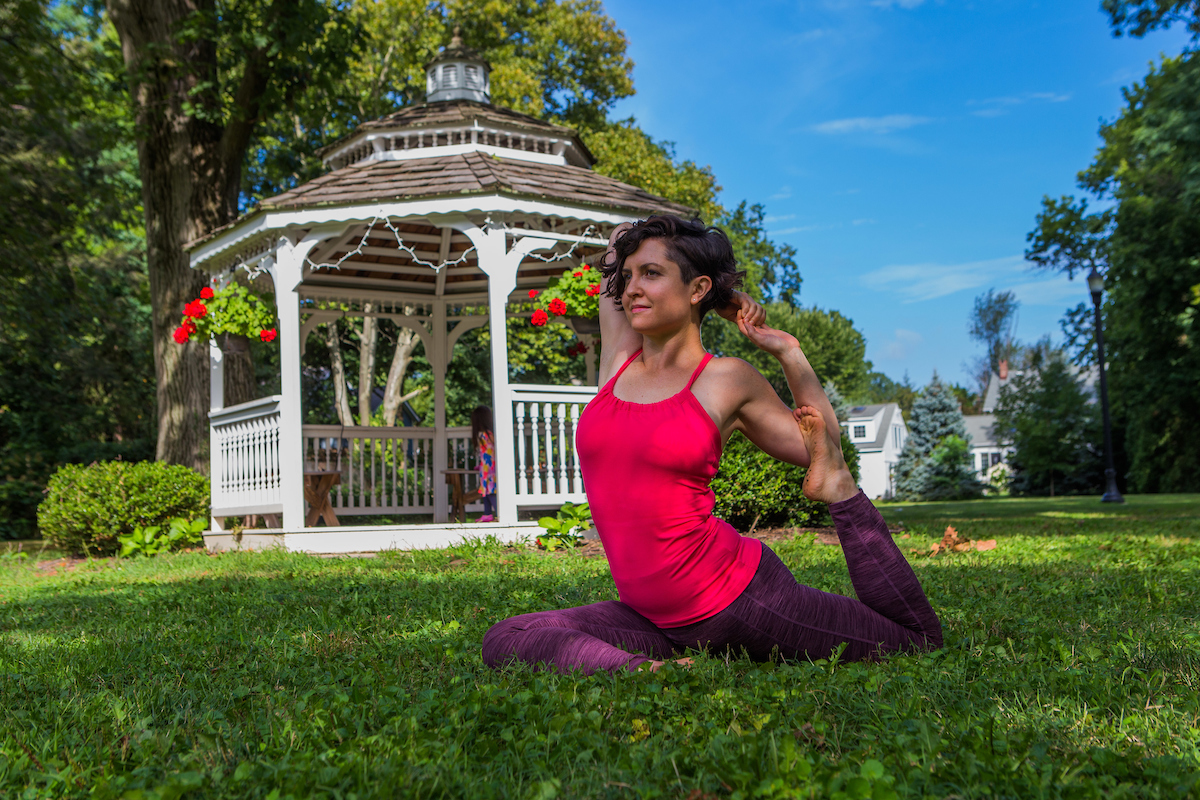 Carrie is the manager of The Movement and a certified, 200-hour E-RYT yoga teacher and a certified Movement Concept™ instructor. She also co-created and co-leads The Movement Concept™ Trainings with The Movement's founder and owner, Chrissy Frascella.
Along with her yoga and functional movement training, Carrie also has a background in law and business. In addition to her work at The Movement, she consults with entrepreneurs and businesses in the healing arts and helps them to create legal foundations for their work. She is also a co-founder of the Conscious Business Collective, a networking group dedicated to creating a conscious business practices and a community that supports individual and collective healing.

In all her work, Carrie's intention is the same - to hold space for others to step into their power, to create the container for healing and to have as much fun as possible.
…wears many hats; she's a mom, plant based whole foodie, nature lover, dog lover, accountability coach, a wife, and her favorite, a yogi! Kaitlyn has been practicing yoga since she was 18 years old as a freshman in college suffering from obesity, anxiety, depression and asthma. At first she did not enjoy the physical challenges of the practice--she had no strength, no body awareness, and disliked having to confront herself and lack of physical capabilities.
Fast forward almost 10 years later, Kaitlyn has completely transformed herself and life into something she never imagined possible. She become certified as 200 hour RYT back in 2013 and since then has gained well over 2000 hours of teaching experience as well as completed continued education training's in beginners yoga, breath-work & bandha locks, aerial yoga, HIIT training and even cardio kickboxing.
Kaitlyn learned how to show up for herself to transform into the happiest, healthiest version of herself and is so excited to help guide her students down that same path to optimal health.
I was fortunate enough to find yoga back in 2016 and quickly fell in love. I've completed 2 teacher trainings and have been teaching for 2 years. When I'm not teaching you can find me on beach, running or riding my skateboard. Looking forward to seeing you on your mat. I love you and there's nothing you can do about it.
Abby is a barre teacher here at The Movement. Although she is new to instructing, she is a trained dancer and has practiced ballet for over 20 years. She is certified in the Movement Concept barre style and trained with Chrissy. She is a licensed esthetician and truly believes in marrying beauty and health to be your best self. She is so excited to bring her love of dance to the Movement!

Megan's yoga journey began years ago in her living room practicing along with videos. Once she finally stepped foot into a studio she was hooked and knew right away she wanted to give people the same feeling she experienced when she left her first yoga class – pure contentment, ease and joy. After her 200-hour training, she began studying the more introspective sides of the practice like restorative and yoga nidra. Megan has found deep healing through yogic philosophy and practices, and she loves sharing these insights with students who attend her classes. You'll be sure to leave Megan's class feeling grounded, centered and ready to take on whatever life throws your way.
A 5th Grade School Teacher by day and Barre Teacher by night, Francesca has a passion and love for teaching and helping others. Her classes are fun, structured, challenging, and inspiring! Her goal is to have you leave her class feeling strong, energized and uplifted!
Years ago, after seeing effective results from good nutrition and barre workouts/movements, Francesca finally decided to take her passion and personal experience to the next level! She also wanted to show her daughters, Brooke and Frankie, the importance of working hard, finding your life's purpose, community, and overall healthy living. She knew that she could do it all here at The Movement!
She is certified through Exhale in NYC and The Movement Concept Barre. You can find her teaching Monday, Thursdays and Fridays!
Native to the Princeton, NJ area - my husband & I moved to Chesterfield 3 years ago. Previously working in the hustle & bustle of the fashion industry, I made a huge career & lifestyle change through finding my purpose in movement & fitness. I feel incredible bliss getting to spend every day helping others in my community grow to be the best version of themselves.
I am currently a 200-hour CYT, Practice Level 1 Reiki & Meditation. I also guide others through the movement of Barre, Les Mills programs, Cycle & Interval Training.
Olivia believes in the importance of tuning into the body and mind on the mat so that we may better understand ourselves off the mat and navigate through our lives mindfully. In this way, yoga becomes a tool for transformation. With breath, alignment, and body awareness, we can overcome hurdles with balance of effort and ease.

Certified in The Movement Concept Barre and a RYT-200. Olivia hopes to inspire you to meet yourself, your body, and your practice right where you exist today. As on the mat, so in life.